The Smartphone sales were on a flight this year, beating the previous year record of cellphone sales by 1.2% in quarter 4 of 2012. The worldwide market grew by 1.9% in quarter 4 of 2012 vendors shipped over 712.6 million cellphones in 2012 which is 44.1% more than 2011 to be precise.
"The high-growth smartphone market, though dominated by Samsung and Apple, still presents ample opportunities for challengers, Vendors with unique market advantages, such as lower-cost devices, can rapidly gain market share, especially in emerging markets. A good example is Huawei, which overtook LG as a Top 5 vendor in the overall mobile phone market and passed HTC to become a Top 5 smartphone vendor."
-
Kevin Restivo, senior research analyst with IDC's Worldwide Quarterly Mobile Phone Tracker.Samsung
remained top of the list in 2012 with a clear margin making the record for shipping the largest number of cellphones, in one quarter and in one year too. The Galaxy series was a hot cake for the market as you know.
Apple
came second with the overwhelming demand of Iphone 4 worldwide and rapidly increased sales in China and other emerging markets. The sales in US increased dramatically too, when you look at the stats.
Huawei
just came from nowhere and with a clever strategy found it's way into the top 3, beating major competition. The company shipment grew by 89.5% year-over-year, dragging it from top 10 to top 3 suddenly. However, the market share isn't so huge like Samsung and Apple i.e 29% amd 21.8% respectively. But the 4.9% market it captured is due to the economical and better designed cellphones.
Sony
after acquiring Ericsson's stake in 2011 has held the market of high end smartphones firmly. The year-to-year change rose to 55.6% which is the second highest after Huawei. It seems that Sony is still longing for acquiring the mid-range market but getting more attention when it comes to high end smartphones. The market shares are going to boom with the release of
Sony Xperia Z
and Sony Zl which are coming in 2013's first quarter.
ZTE
having a prime position as vendor stays in the top 5 with it's 4.3% market share. The increase in emerging markets tend to benefit ZTE more as we see a 48.4% year to year change in it's corner.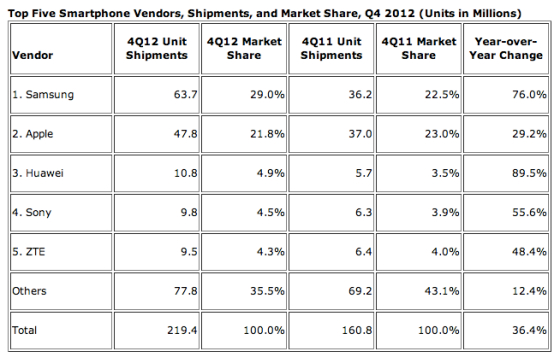 Where some companies like Huawei and Sony had a good year, Nokia and RIM sem to suffer a lot this year. With the wide spread of Android market, some companies are finding it harder to strive back. While other's like Samsung and Sony seem to enjoy iy to the very core. The Smartphones are becoming common, and 2013 seems to be a crucial year for many smart phone vendors as anything can happen.